Contact Information: iRad Sales Group Kristin Orlando
C:586-596-5096
FOR IMMEDIATE RELEASE:
May 1, 2023
iRAD SALES GROUP announces the formation of Medical Advisory Board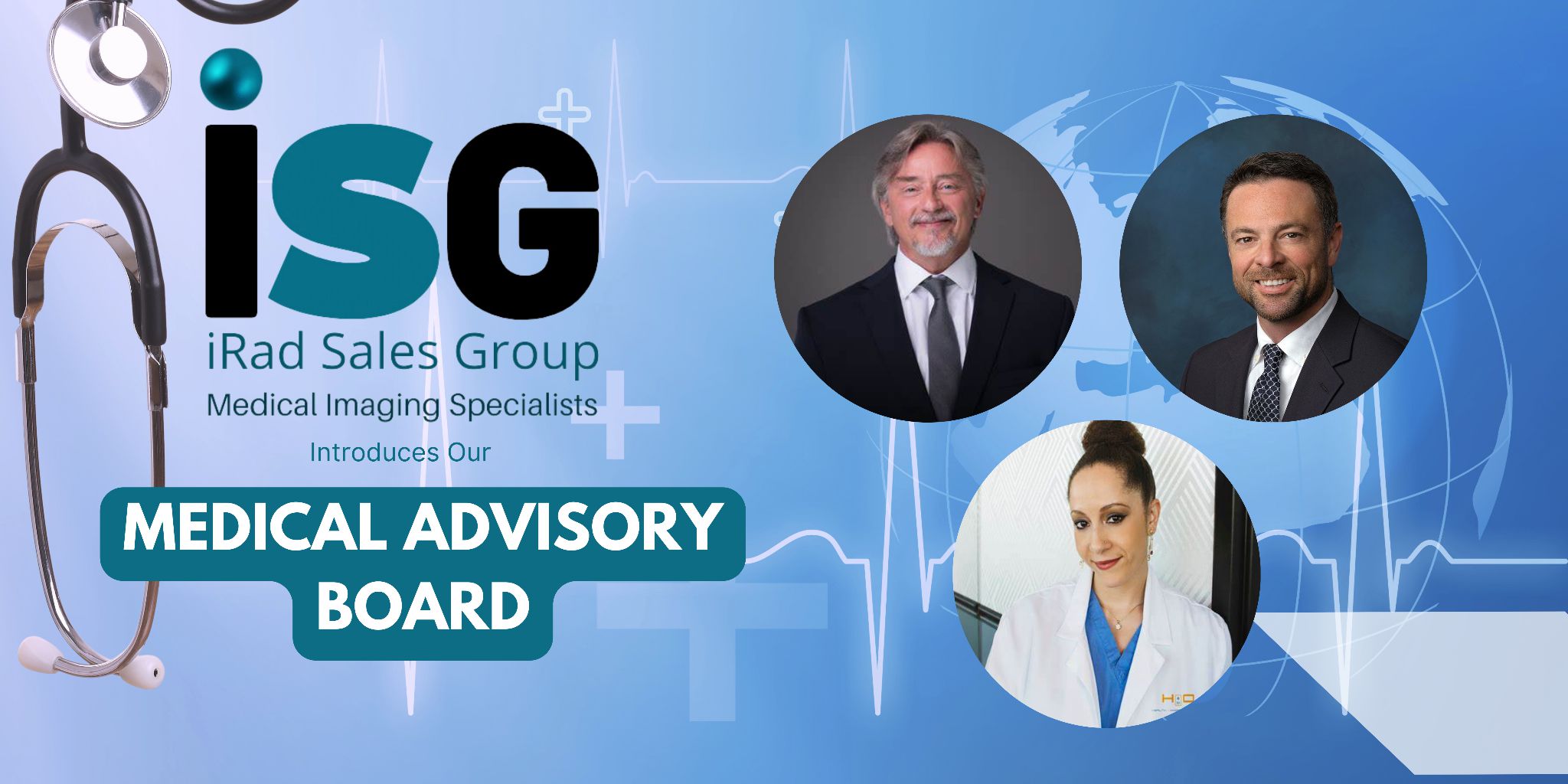 iRad Sales Group is the leading provider of new and refurbished diagnostic imaging equipment. Formed in 2021, the company has become a trusted resource for physicians, clinics and hospitals to provide excellent equipment and service. We are excited to announce the inaugural members of our Medical Advisory Board who will help advance the company's mission to become the leading diagnostic imaging solutions company. Members include Drs. Alia L. Fox, Charles A. Guglin and Thomas S. Nabity Jr., all respected internationally known experts in the field of preventive medicine.

Overall iRad Sales group is hoping these healthcare experts on our Medical Advisory Board provide strategic guidance, expert advice, and oversight to help our clients improve on patient care, outcomes, and operational excellence. "We believe the people we hand selected are a group of respected physicians here to help us apply education first, & equipment later, allowing us to differ away from being a traditional imaging center." says President of iRad Sales Group, Tony Orlando.
Dr. Alia L. Fox, MD – Dr. Fox began her career in medicine after receiving her Medical Doctorate in 2007 from Northeast Ohio Medical University, followed by a postgraduate degree in Anesthesiology. She completed her residency in Anesthesiology from the Cleveland Clinic, a nationally and internationally top-ranked hospital for multiple specialties. She continued on to complete her fellowship in Pediatric Anesthesiology at the Children's Hospital of Wisconsin, and is board certified in both Adult and Pediatric Anesthesiology. With previous staff positions at Duke University followed by Madison, WI, Dr. Fox currently practices in the private sector for a large Milwaukee hospital system. As the Department of Anesthesia Chair and Medical Director of one of these local hospitals, she continues to see the spectrum of adult and pediatric cases which vary from the simple to very complex. Being involved in her community as much as possible she is also the primary physician for the Milwaukee Bucks Basketball team. Stemming from her own experience of receiving IV's over the years, Dr. Fox hopes to use IV nutrient therapy as a means to improve people's lives in an easier and more comfortable setting.
Dr. Thomas S. Nabity Jr., MD- Dr. Nabity completed his medical school training at the University of Nebraska Medical Center in Omaha, NE, and his post-graduate training at William Beaumont Hospital in Royal Oak, Michigan. He is a board-certified Physical Medicine and Rehabilitation physician (ABPMR) with a subspeciality Board Certification in Pain Medicine (ABPM) and Musculoskeletal Ultrasound (RDMSK). He has a special interest in the non-surgical management of musculoskeletal, spine, and joint pains, and was one of the first physicians in Michigan to incorporate regenerative medicine into his treatment options. In 2017 he opened the Michigan Center for Regenerative Medicine which focuses on offering evidence-based FDA compliant regenerative medicine options for musculoskeletal conditions. Dr. Nabity is a member of the Interventional Orthobiologics Foundation, the American Academy of Physical Medicine and Rehabilitation, the American Society of Interventional Pain Physicians, and the American Academy of Orthopedic Medicine.

Dr. Chuck Guglin:
Dr. Guglin was born and raised in Rochester, NY. After receiving a BS from SUNY at Albany, NY, he went on to medical school at the University of Pittsburgh School of Medicine. Dr. Guglin went through General Surgery Residency training, initially at New Britain General Hospital in New Britain, CT then completed a Trauma Fellowship and wrapped up his General Surgery training at Hartford Hospital in Hartford, CT. Dr. Guglin has been a practicing acute care General Surgeon in Milford, CT for 28 years. Toward the conclusion of his tenure, he became somewhat dissatisfied with the way physicians typically practice medicine in this country. It has become the norm, in part because of the undue influence of the insurance and pharmaceutical industries, to allow patients to grow chronically unhealthy, mostly as a result of lifestyle issues, then to treat their symptoms with pharmaceuticals or invasive surgery. Dr. Guglin became impassioned about the newer concept offered by the field of Preventative/Functional medicine. Practitioners in this discipline are dedicated to discovering the root cause of chronic illnesses through the utilization of advanced diagnostics, including extensive blood studies, genomics, body composition analysis, VO2 Max studies and cognitive testing.
The adoption of the Medical Advisory Board into iSG sets the company uniquely apart from any other imaging equipment company. We are seeking to be a solutions provider to our physicians and clients. Our products and services will be vetted by clinicians and will help to develop best practices for implementation into clinical practice.
iSG formed in 2021 is a full line imaging equipment provider that specializes in providing CT, MRI,
X-Ray, Ultrasound, Fluoroscopy and DEXA. We offer new and refurbished imaging equipment from all major OEM as well as training and management solutions.
To learn more about iSG and our unique approach to imaging solutions contact iRad Sales Group at 586-532-1170 or email us at: [email protected]