If your reading this, you must have a passion for helping animals and you have decided to improve patient care and diagnostic capabilities in your clinic by adding a CT Scanner to better diagnosis your patients. Congratulations!
Computed tomography (CT) technology increasingly important when it comes to high-resolution diagnostic animal imaging, including for domestic animals such as dogs, cats and equine.
Typically, veterinarians are using the CT Scans to diagnose abnormalities in the brain, nose, ear, and musculoskeletal system to determine orthopedic issues, diagnosing cancers and treating trauma cases in animals.
But you aren't sure where to start or even really the first questions to ask? We have helped many  physicians buy a CT for their clinic for the first time. With so many makes, models, slice counts, and various other options it is easy to be overwhelmed.
To simplify the process we have narrowed down the first question you should ask yourself and/or staff to start. 
     

Can my clinic accommodate a CT Scanner?
While you may be able to fit a CT Scanner into a smaller room, most will fit comfortably into a room of approximately 300 sq.ft. This size room will give your staff the ability to easily maneuver around the gantry if needed, and allows enough room on either side of the equipment to properly service it.You will also need an area immediately adjacent that can be designated for the control area. While this can be a small desk in a hallway, it will be important that you plan for both.
If your facility cannot accommodate a CT scanner there is the option of a mobile CT trailer for your facility. This would be a CT placed in a trailer that could located in the parking lot.If you are treating equine or larger animals this may also be a desired option.
iSG has options for both fixed and mobile CT's after some discovery we can determine the best option for your clinic.
     

What slice count do I really need to perform studies on animals?
There isn't a right or wrong answer on this. Most vet facilities with a CT have a 4/6 or 8 slice CT. These systems will adequately perform the proper imaging for animals but may be a slower scan time or have lower resolution than the 16/32/64 slice count.  If your facility is going to be using this CT primarily for oncology then a 16/32 slice is recommended.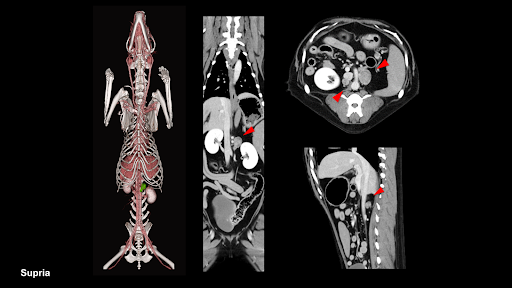 New vs. Refurbished CT Scanners, which is right for me?
Both are excellent options and oftentimes this comes down to cost and budgets. For example, some manufacturers include a standard 2 year parts and labor warranty, while a refurbished CT may only include a 1 year parts and labor warranty. It then boils down to the ROI and monthly payments of the purchase. During an initial discovery call both of these options are explored  iSG offers both new and refurbished CT Scanners for Veterinary Medicine.
These are just a few questions that are asked during the initial call with an Imaging Equipment Expert from iSG. With a 30 minute discovery call, we can discuss exactly the procedures, the proposed area and your potential throughput to determine the best CT for your clinic.
To Schedule a Call with an iSG CT Expert, Click Here